Disclosure: Our content does not constitute financial advice. Speak to your financial advisor. We may earn money from companies reviewed.  Learn more
Last Updated on: 24th March 2023, 11:36 pm
Goldmoney (BitGold)
Global Rating

(4.5/5)

Very Good
User Rating

(0/5)

0

No reviews yet!
Review Summary :
Goldmoney is truly a game-changer. Nothing like it exists on the market today. The ability to send payments in gold AND to be able to withdraw your gold is absolutely fantastic. Anybody that truly believes in gold as a currency should sign up with Goldmoney today.
Pros:
No Rees to Send/Receive Gold.
Ability withdraw your gold in physical form.
Free gold storage
Fully insured
Backed by some big names
Experienced Management Team
Cons:
$25 fee to redeem your gold.
Quick Facts about Goldmoney (BitGold)
Have you purchased products from Goldmoney (BitGold)? Leave a review!
(Note: BitGold Inc. announced a complete vertical integration with its subsidiary, GoldMoney Inc., on July 30, 2015. The company has thereafter been referred to as "GoldMoney")
There is a new company looking to reinvent the thought process around gold and its potential uses. In fact, Toronto-based Goldmoney (https://www.goldmoney.com) is making headlines lately as being the first company to create a gold-based debit card that will allow anyone to send and receive payments in gold (real physical gold, not gold certificates tied to the dollar!).
To this day, one of the drawbacks of investing in the shiny yellow metal was that once purchased, you couldn't use it to pay for your everyday expenses. Goldmoney wants to change this in a big way. With their newly-launched debit card, you'll not only be able to spend gold as an everyday means of payment, but you'll also be able to "withdraw" your gold in physical form.
Goldmoney seeks to give its users a fully secure vault that houses their owned gold; those without any to start can also make purchases through the account while sending and receiving instant payments as well as getting a debit card for traditional spending use.
All accounts at Goldmoney are free and easy to sign up for; never before has spending gold been so quick and convenient.
About Goldmoney's CEO and Founders
Here's a quick look at the CEO and founders of Goldmoney:
Darrel MacMullin, CEO: For 15 years, MacMullin has worked as an advisor with a number of industry partners, developers and entrepreneurs, even helping to drive the launch of PayPal when it first arrived in Canada. In addition to this, he has accelerated FinTech payment growth as well as commerce experience, proving his innovation and leadership experience to streamline a number of FinTech companies. Before PayPal, MacMullin successfully helped launch Chapters Indigo and eBay.
Roy Sebag, Co-Founder: A team leader at Goldmoney, Sebag has maintained an active investment portfolio for well over a decade, with particular specialization in event-driven natural resource investments. Throughout the duration of his career, he's correctly estimated a number of themes showing signs in the economy, allowing him to gain risk-adjusted returns that greatly outperformed the indices.
Josh Crumb, Co-Founder: Goldmoney Chief Strategy Officer Josh Crumb is an entrepreneur with specialization in early global businesses. Previously, Crumb worked at Goldman Sachs as the Senior Metals Strategist for Global Economics, Commodities and Strategies division in England. Now, he remains a director at three different listed Canadian companies. In addition to maintaining a Master's degree in Mineral Economics, Crumb has a Bachelor's in Engineering and a Graduate Certificate in International Political Economy.
Goldmoney is backed by a few big names as well, such as:
Dundee Capital Markets
Sandstorm Gold
Sprott Inc
Power One Capital Markets Ltd
Clarus Securities Inc
GMP Securities
The Beginnings of Goldmoney
It all started when the founders wanted to pay for coffee with gold, and realized that although gold is dubbed as a real currency by its proponents, you cannot use it as such…
Since Nixon abolished the gold standard, that stated 1/35th of an ounce of gold would be a dollar, no formal link has been established between the metal commodity and any other chief currency of the world. This has been chaotic for policymakers and economics alike, both arguing that America's financial troubles happened because of this policy annulment.
Goldmoney wants to take advantage of the excitement around digital currency and bring new life into the oldest form of currencies in the world.
Most people are familiar with Bitcoin as a variant of digital money, but Goldmoney's goals are very different — the two concepts are in no way related.
Problems with traditional currencies
When it comes to banking, there is no longer a concept such as real financial privacy, at least not as far as first-world countries are concerned. FATCA and OECD all ensure that the governments can access transactions like bank deposits, credit card charges, wire transfers and so on. Cash transactions sometimes even have a maximum limit.
Digital currencies have the potential to offer more privacy, but they're still at their infant stages in our big global economy.
Precious metals like gold, however, have gone through the test of time. At 4.6 billion years old, gold clearly beats any other investment when it comes to longevity, especially when you consider that the median age of modern currencies is only 39 years! Archaeologists and Historians have reported that the earliest humans studied in history have used gold as a way to store wealth and exchange goods.
The major reason to accumulate gold for savings today is to mitigate the risk that a central bank will devalue its currency, therefore directly devaluing its citizens' wealth.
Gold Storage with Goldmoney
When you store gold in safe overseas jurisdictions, no US lawsuit will be able to touch that gold. Goldmoney's got you covered, and offers free storage at private vaults secured by Brinks in Dubai, Hong Kong, London, Singapore, Toronto, and Zurich, among others
Does Goldmoney Have Debit and Credit Cards?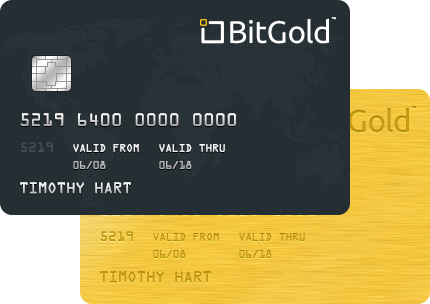 While it has no direct link to Bitcoin, Goldmoney's concept is similar to digital currencies. In this way, you can purchase gold from the company through an account and use it with a Goldmoney debit card. Although you can use credit cards to purchase gold, Goldmoney itself only provides a debit card for its purposes, ensuring you won't overspend in any situation.
Here's a quick look at some of the features of the Goldmoney debit card:
Gold can be used as a means of everyday payment, such as buying a cup of coffee, as well as saving an amount
Process your debit or credit card to earn gold
Goldmoney works like an online bank account, though it works with gold instead of currency
It is easy to redeem gold in just 10 gram increments, which is currently worth about $370
Goldmoney is a publicly traded company with strong investors backing it, and it is audited by PwC as well as fully insured
Goldmoney is capable of working in real time, which is something that other companies that sell gold at a premium before issuing a card can say
It's also the first American gold-based card available
Is Goldmoney Potentially a Scam or Fraud?
While the company may be new, everything seems to be in perfect legal order with several satisfied customers. Perhaps the safest and most convenient means of exchange does rely on a mix between digital currency and traditional metals.
The fact is that the company has a truly innovative business model that can easily explode in value much like PayPal and eBay did; consider that PayPal is worth more than 30 times what eBay paid for it, and it's earned more than $410 million in just 2014. Now consider that Goldmoney's CEO has worked on both of those companies and helped accelerate their growth.
BitGold and GoldMoney Inc. Merger
Questions always arise whenever a merger happens for big companies. After reviewing the details of the process, it all seems like it work out for the best for the companies and its clients. For instance, storage fees are likely to drop, and the gold-based debit card is simply an excellent idea for the 21st century.
After its added financing, the two primary owners of BitGold become shareholders of GoldMoney. The expertise of all major heads of the two companies will definitely work well together in great synergy.
In addition, GoldMoney will remain in Jersey for its operations as a fully owned subsidiary of its parent based in Toronto. It will maintain the very same controls and governance procedures that allows GoldMoney to continue growing its reach and business. In this respect, there really won't be any change.
Goldmoney (BitGold)
Global Rating

(4.5/5)

Very Good
User Rating

(0/5)

0

No reviews yet!
Review Summary :
Goldmoney is truly a game-changer. Nothing like it exists on the market today. The ability to send payments in gold AND to be able to withdraw your gold is absolutely fantastic. Anybody that truly believes in gold as a currency should sign up with Goldmoney today.
Have you purchased products from Goldmoney (BitGold)? Leave a review!