Canadian Palladium Maple Leaf Coins
Disclosure: Our content does not constitute financial advice. Speak to your financial advisor. We may earn money from companies reviewed.  Learn more
The latest continuation of the hugely successful Maple Leaf bullion series, the Canadian Palladium Maple Leaf is also the first palladium offering from the Royal Canadian Mint. Sometimes referred to as Royal Canadian Mint Palladium Coins or simply Palladium Maple Leafs, these are the world's only legal tender palladium bullion coins issued by a major government mint.
Development, Introduction and History
The Canadian Maple Leaf series is one of the most successful, recognizable and reputable bullion coin series ever introduced. Palladium versions of the Maple Leaf coins were added in 2005 to compliment the Gold Maple Leaf, Silver Maple Leaf and Platinum Maple Leaf coins.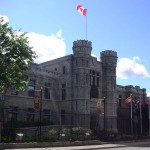 Canadian Palladium Maple Leaf coins were first offered in November 2005 and limited to 40,000 total coins. Production decreased in each of the next two years, with only 15,000 coins issued in 2007. The Royal Canadian Mint discontinued production following 2007.
Consumer demand for palladium products rose sharply after the global recession of 2007-2008, and in 2009 the Royal Canadian Mint again minted a limited number of Palladium Maple Leafs to be meet that demand.
Almost all of the world's palladium is mined in Russia or South Africa, and stores of palladium can be difficult for any mint to obtain consistently. This means that palladium offerings are both more rare and less consistent that other precious metals. Palladium Maple Leafs are by far the most rare of the Canadian Maple Leaf series.
Canadian Palladium Maple Leaf Physical Characteristics
Coin Design
The front, or "obverse", design of a Palladium Maple Leaf coin features the image of Queen Elizabeth II as depicted by Susanna Blunt. The profile view of Queen Elizabeth II appears on more types of modern national bullion coins than any other person's image.
The name ELIZABETH II appears right above her majesty's image, and beneath reads the face value (50 DOLLARS for 1 oz. coins) and the year of mintage (e.g. 2005).
The rear, or "reverse" side contains one of the most recognizable images in the world of bullion, as well as the national symbol of Canada: the Maple Leaf. The name CANADA lines the top of the reverse, along with the numbers 9995 on either side of the leaf image (reflecting the coins .9995 palladium fineness). The words FINE PALLADIUM and 1 OZ PALLADIUM PUR stretch across the bottom.
Specifications
Unlike other Maple Leaf series coin offerings, the Royal Canadian Mint only produced one weight denomination for Palladium Maple Leafs: 1 troy ounce.
1 troy ounce Canadian Palladium Maple Leaf
Face Value: $50 Canadian
Weight: 31.103 g
Diameter: 33.0 mm
Thickness: 3.58 mm
Each Palladium Maple Leaf coin is guaranteed to contain .9995 palladium (99.95%). This meets the purity requirements for IRA investing.
Canadian Palladium Maple Leaf Pricing
Each Canadian Maple Leaf coin carries a face value, or its transactional value when used as a currency in Canada. This value is set by the Canadian government.
While technically legal tender, these values are largely symbolic; the actual value of a Palladium Maple Leaf is typically far greater than the minted face value.
The face value is completely separate from the market value of a bullion coin. The market value of Palladium Maple Leafs is primarily determined by the spot price of palladium. However, due to extremely low levels of production and few palladium alternatives, the Canadian Palladium Maple Leafs can trade at a significant premium to the value of its palladium content.
The spot price of palladium fluctuates daily, so the market price of Canadian Palladium Maple Leaf coins will fluctuate daily as well. You can check out our home page for live metals pricing.
Adding Canadian Maple Leaf Bullion Coins to an IRA
All Canadian Palladium Maple Leafs are eligible to be placed inside of a self-directed IRA.
By placing real, physical palladium inside of an IRA, investors add diversification to their portfolio that is independent of the fluctuations of stocks and bonds. Palladium is a more scarce metal than gold, silver or platinum. In fact, it is one of the 10 least occurring elements on the surface of the earth and it's rarity helps provide it real value to investors everywhere.
The Internal Revenue Service (IRS) allows specific types of IRAs to carry gold, silver, platinum and palladium bullion inside of a portfolio. Sometimes referred to as a "precious metals IRA", only IRS-approved bullion – such as the Palladium Maple Leaf coin – can be added to these investment vehicles.
Investors must make a minimum initial purchase of $5,000 of approved metals in order to establish a precious metals IRA. Each subsequent purchase must be at least $1,000. Additionally, any purchase of investment bullion for an IRA is required to be transferred to, and held inside of, an approved precious metals depository. These depositories are responsible for the safety and maintenance of the metals until a distribution is made.
To be IRS-approved, bullion coins and bars must meet minimum purity requirements. All Canadian Maple Leafs (Gold, Silver, Platinum and Palladium) meet these requirements, and their quality is guaranteed by the Royal Canadian Mint.
Those with existing IRAs have the option of transferring or rolling over funds into a precious metals IRA.
Since the Palladium Maple Leaf coins are no longer being issued on an annual basis, you cannot purchase new coins from the Royal Canadian Mint official website. Indeed, locating Palladium Maple Leafs is more difficult than locating other Maple Leaf products. It is possible to find Palladium Maple Leaf coins through reputable dealers and distributors, such as the American Precious Metals Exchange (APMEX).
Sign up to learn more. It's free!
If you're worried about the economy and want to learn tips on how to protect your retirement savings in case of another systemic collapse, sign up to our monthly newsletter now for free! We cover topics such as: precious metals investing, inflation, currency devaluation, national debt, the Fed's financial policies, world politics, and much more. Join now and we'll send you a free PDF report entitled "5 scams to avoid when investing in bullion gold & silver"