U.S. Double Eagle Gold Coins
Disclosure: Our content does not constitute financial advice. Speak to your financial advisor. We may earn money from companies reviewed.  Learn more
U.S. Double Eagle Gold Coins are more popularly referred to by their common nickname $20 Saint Gaudens Double Eagles. These stunning treasures are often times regarded as the most beautiful of all circulated U.S. Mint released pieces. This helps to explain their universal appeal to both investors and coin collectors. The coins originally circulated until the height of the Great Depression in 1933 when the then President Franklin D. Roosevelt decided to outlaw U.S. citizens from hoarding gold that was also considered to be money. To this effect, he remanded all gold coins back to the confines of the American Treasury. Sadly, millions upon millions of them were harshly melted down before being cast into featureless gold bars.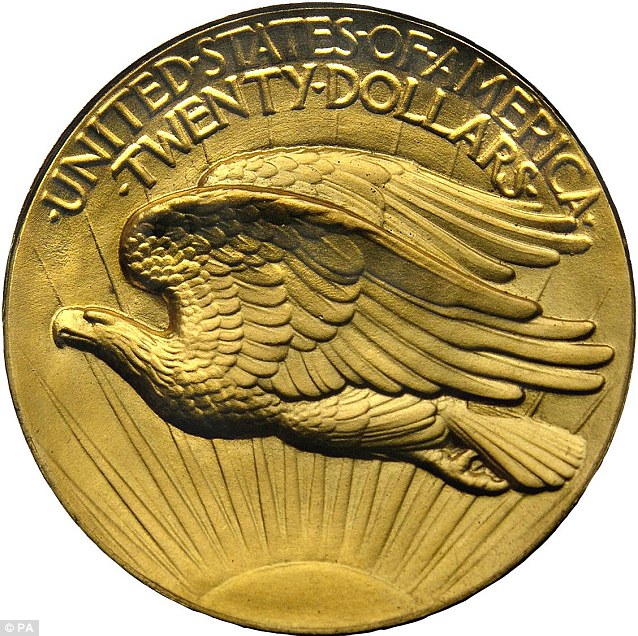 U.S. Double Eagle Gold Coins Background and History
U.S. Double Eagle Gold Coins were originally commissioned by then President Theodore "Teddy" Roosevelt. They received their iconic name as the previously biggest American gold coin up to the era of the California gold rush proved to be the $10 face value gold Eagle. In 1849, Congress authorized Treasury and the U.S. Mint to produce a bigger $20 gold piece so that the windfall of Western discovered American gold from the Californian gold mines could be efficiently struck in coinage. Because it was double face value compared to the other pieces of the time, it naturally acquired the nomenclature of "double eagle."
Additional gold discoveries subsequently made in Colorado, Nevada, Alaska, and Arizona forced the U.S. Mint to mint literally hundreds of millions in ounces of U.S. gold in the form of the these new bigger Double Eagles. This is why they have such a literal and powerful connection to the glory days of the Old West and its gold mining legacy. To the rest of the world, these $20 St. Gaudens gold coins represented the uncountable wealth of the U.S. born out of the second half of the 19th century. These coins hail back from the Miner 49ers from old California in 1849 on up to the Alaskan gold rush of 1898. This tangible piece of Americana not only protects your wealth but offers you the ability to hold actual physical American history within your two hands.
U.S. Double Eagle Gold Coins Physical Characteristics
These Saint Gaudens Gold Coins were all struck by the three principal gold mints of the day in either Denver, Philadelphia, or San Francisco. They are close to a full ounce of gold content in each piece.
Coin Design
The front side of coins is called the "obverse" by numismatists the world over. U.S. Double Eagle Gold Coins' obverse features a lovely rendition of Lady Liberty walking in front of the dawn rays of the sun at the beginning of a new day. In her right hand she holds up a torch, while in her left hand she bears the olive branch of peace. In the lower left side of the obverse background is the United States Capitol building. Stars portray the total number of states within the Union at the time all along the borders of the coin.
The coin "reverse" is the rear side of coins. U.S. Double Eagle Gold Coins' reverse showcases the fabled American eagle. It soards powerfully over a brightly blazing image of the sun. The national motto "IN GOD WE TRUST" is not featured on those coins struck between 1907 and 1908. All coins minted in years 1908 to 1933 depict it. In 1912, they changed the total numbers of stars which surrounded Lady Liberty from 46 to 48 to announce the additions of Arizona and New Mexico as states in the U.S. "Twenty Dollars" face value is clearly denominated on this reverse side as well. These coins were originally designed by Augustus Saint-Gaudens, which explains their name St. Gaudens gold coins.
Specifications
The Saint Gaudens gold coins were struck continuously by the U.S. Mint from 1907 to 1933. These U.S. Double Eagle Gold Coins are minted in only the single size of almost one troy ounce. Their dimensions are as follows:
Mass: .9675 troy oz
Diameter: 34 mm
Thickness:  2.41 mm
Purity: 90.0% gold
U.S. Double Eagle Gold Coins Pricing
U.S. Double Eagle Gold Coins have always bore the face value of $20, as clearly stated on the coins themselves. Each of these striking pieces can be spent as legal tender within the borders of the United States. It would be the height of folly to spend a coin worth well over $1,000 in gold content for such a sum. This is because the intrinsic value of these historical gems is substantially higher than the mere face value implies. This intrinsic value proves to be mostly based upon the spot gold prices, though there is additional premium for the coins because of their popularity and collector appeal connected with their rich history of the Old American West.
Such intrinsic value makes up the market value of these coins. When you are calculating a portfolio's value, the market value decides what the contribution from such U.S. Double Eagle Gold coins actually is. The premium these coins command over spot is explained by the considerable expenses of designing, striking, and circulating them which the U.S. Mint incurred. The market value and price of these handsome issues goes up and down daily along with the gyrating price of gold prices on the world markets. You can watch and track live gold prices at this very moment simply by following the link to our homepage.
Can IRA Accounts Contain U.S. Double Eagle Gold Coins?
If you are a retirement-minded person considering acquiring some of these incomparably beautiful U.S. Double Eagle Gold Coins, you have to know whether or not you are allowed to include them in precious metals IRAs first. The Internal Revenue Service alone determines which coins can be placed inside the principle retirement vehicles of the U.S. and which are disallowed. Their system for making such a determination mainly comes down to the two factors of gold purity and collectable nature and premiums of the coins which they consider allowing within your self directed IRA vehicles.
You can not open up this account without making an initial $5,000 minimum purchase of IRS approved gold or silver bullion. After you have started up such an account, you can make subsequent purchases for only $1,000 minimums each time, as often as you like. Should you already possess a traditional IRA account, transferring it over to one of these precious metals retirement vehicles is a matter of engaging in an IRA account rollover. You will need to select a new IRA account administrator to oversee and handle all transaction of buying, selling, and storing your precious metals on your behalf. They will purchase your precious metals shipment, receive it, and transship it to an IRS sanctioned third party vault for storage and safekeeping. You will never actually lay hands on these coins at any point in the process, otherwise the precious metals will be invalidated for inclusion within your self directed IRA. The IRS does not make exceptions to these rules and regulations.
The IRS minimum gold purity standard for inclusion in IRAs is a strict .995 fineness of gold. Since these Saint Gaudens gold coins only contain .900 gold purity, they are disallowed from precious metals IRA accounts. Even if they possessed a high enough gold purity, which they do not, the IRS would still disavow them because of their principally collectable nature and the higher premiums these coins command in even average circulated condition. The certified uncirculated and proof versions sell for far higher prices over gold spot prices. While these most beloved of American circulating gold pieces may not be bought with IRA funds, they still make fantastic choices for other forms of investment, retirement, and collectable portfolios of gold bullion coins. You are able to buy them from most reputable precious metals, coin, bullion, and many jewelery dealers around the U.S. and the world in general.
Sign up to learn more. It's free!
If you're worried about the economy and want to learn tips on how to protect your retirement savings in case of another systemic collapse, sign up to our monthly newsletter now for free! We cover topics such as: precious metals investing, inflation, currency devaluation, national debt, the Fed's financial policies, world politics, and much more. Join now and we'll send you a free PDF report entitled "5 scams to avoid when investing in bullion gold & silver"