South African Krugerrand Gold coins
Disclosure: Our content does not constitute financial advice. Speak to your financial advisor. We may earn money from companies reviewed.  Learn more
South African Krugerrand Gold coins carry the unique distinction and prestige of having been the very first modern bullion coins ever invented. South Africa's mint revolutionized the gold investment market when it conceived of the idea to create a legal tender gold coin in a standard size of one troy ounce. Also unique is its face value, which is equivalent to the spot price of gold. This classical appearance gold bullion coin is beloved around the globe for its instantly familiar design, massive mintage, and reliable one ounce gold content. Though introduced back in 1967, these bullion pieces remain enormously popular the world over. Fifty years later, today's Gold Krugerrand coins are still considered to be an important international representation of both wealth and prestige.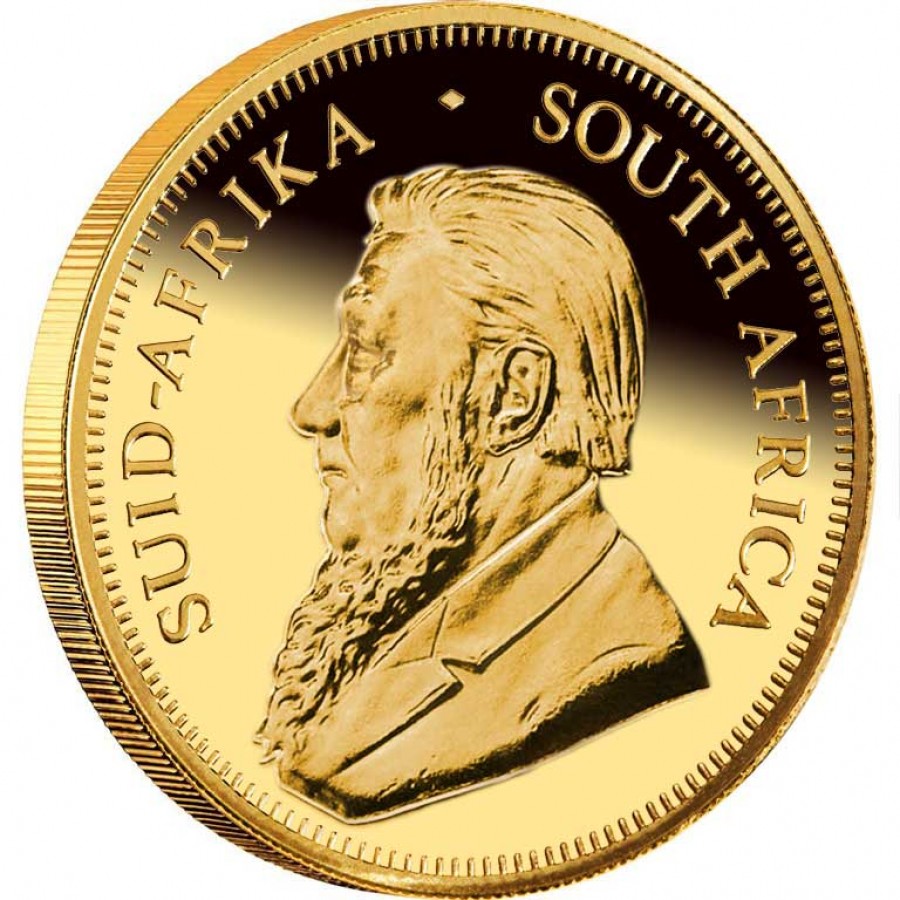 South African Krugerrand Gold Coins Background and History
The emblematic South African Krugerrand Gold coins appeared on the international scene with much fanfare in 1967. As the world's first and only bullion coin at the time, the coins famously included no inscribed face value as the legal tender amount was linked by the government of South Africa to the daily settled gold spot price. This first experiment in gold bullion coins proved to be so wildly successful that other national mints took note and drew up their own plans for issues in the next few years. It only took a few years for the United States Mint, Royal Canadian Mint, Perth Mint of Australia, and Her Majesty's British Royal Mint to release their own competing bullion issues, yet despite this inevitable challenge, by 1980, 90 percent of all gold bullion coins in the world still remained Krugerrands. This is why they are still regarded as the essential depiction of wealth today.
South Africa introduced its South African Krugerrand Gold coins as a means of facilitating the restricted (at the time) private ownership of gold. The initial one ounce size proved to be so popular that the mint later released smaller sizes so that a larger number of individuals could afford to buy and own gold. Thanks to the ongoing success of these coins, the world witnessed the dawn of the Canadian Gold Maple Leaf and the American Gold Eagle coins a few years later.
The name of the Gold Krugerrand derives from the first president of South Africa Paul Kruger combined with the official name of the South African currency the Rand. South Africa excelled at the mass market production of gold bullion coins precisely because it produced fully 75 percent of all the gold on earth in the late 1960s and early 1970s. Because these coins functioned as legal tender in South Africa, foreigners who were forbidden by their own national governments from buying gold bars were able to acquire and keep these coins. The coins eventually became issued in a collectible series to add numismatic features to their already substantial precious metal and legal tender value.
South African Krugerrand Gold Coins Physical Characteristics
South African Krugerrand Gold coins are produced in a stunning brilliant uncirculated condition. They come in 22 Karats purity. In 1980, these popular coins represented more than 90 percent of all gold coins available on the global gold market.
Coin Design
The front side of every coin is called "the obverse." The Krugerrand obverse features the likeness of first South African President Paul Krugerrand. In the Second Boer War against incredibly dominant and powerful colonial overlord Great Britain, he resisted their inexorable navy and army as a national leader and folk hero. Beneath his portrait is the name of the country in both English and Afrikaans.
The backside of coins is known in numismatics as the "reverse." Krugerrand reverses feature both loveable animal and national symbol of South Africa the springbok antelope. This animal is crafted with impressive and sharp detail as a tribute to the natural and political heritage of the nation. The reverse also bears the inscription of the mint year and the gold weight and fineness of the coin.
Specifications
South African Krugerrand Gold coins come in a range of sizes. These start at tiny one-tenth ounces and increase to one quarter, one half, and  finally standard one ounce sizes. The most popular one troy ounce dimensions are as follows:
Mass:  33.930 grams
Diameter: 32.8 mm
Thickness:  2.84 mm
Content: 1 troy ounce
Purity: .9167 fine gold
South African Krugerrand Gold Coins Pricing
South African Krugerrand Gold coins have the advantage of the highest possible legal tender value in South Africa. This is because their face value is equal to the spot price of gold times the amount of ounces they contain. This is the only major bullion coin in the world where you could happily spend the coin in theory for important needs or services. The intrinsic value of these bullion issues is equal to the spot price of gold less a tiny premium for the minting and circulation costs of the coins. The market value comes from the spot price of gold almost entirely since these coins have been heavily minted and circulated over more than 50 years. You can simply determine today's real time gold prices by navigating over to our homepage.
Can IRA Accounts Contain South African Krugerrand Gold Coins?
The Internal Revenue Service is the U.S. government authority which determines in its sole discretion which bullion coins can be included in the government's popular IRA retirement accounts. These accounts are only allowed to contain bullion pieces that pass a rigorous purity and low collectibility set of standards. The IRS also insists that you must first fund such a precious metals IRA with a minimum initial purchase of $5,000 in approved gold and/or silver bullion. Afterward, you can add as little as $1,000 worth of additional bullion at a time. If you already possess an IRA account of another type which is not self directed, you can simply roll it over into a precious metals IRA. Once your first gold bullion purchase has been affected and received by your IRA account administrator, you will need to have a third party approved depository ready to receive and store your valuable precious metals in their vault for maintenance and safe keeping purposes.
It is an easy question to answer if the South African Krugerrand Gold coins can be included in your retirement IRA account. Because these coins only contain a .9167 gold purity, they do not attain the .995 minimum purity level of gold which the IRS requires of all bullion in IRA accounts. This means that the IRS will not allow you to buy and hold Krugerrands with your IRA retirement account funds. These most popular of gold bullion coins ever issued are still excellent and economical choices for stockpiling gold in other forms of retirement or investment accounts. You can easily purchase bullion pieces these from any good coin or bullion dealer or shop in the world, thanks to their almost limitless availability all over the globe.
Sign up to learn more. It's free!
If you're worried about the economy and want to learn tips on how to protect your retirement savings in case of another systemic collapse, sign up to our monthly newsletter now for free! We cover topics such as: precious metals investing, inflation, currency devaluation, national debt, the Fed's financial policies, world politics, and much more. Join now and we'll send you a free PDF report entitled "5 scams to avoid when investing in bullion gold & silver"