India Gold Sovereign George V Coins
Disclosure: Our content does not constitute financial advice. Speak to your financial advisor. We may earn money from companies reviewed.  Learn more
India Gold Sovereign George V Coins are a truly unique piece which was minted only a single year at the end of World War I. As a member of the gold British Sovereign family of coins, these are among the most beloved and collected world gold coins today. This sovereign that bears the Bombay, India mint mark is highly sought out by collectors for being a single year only issued coin.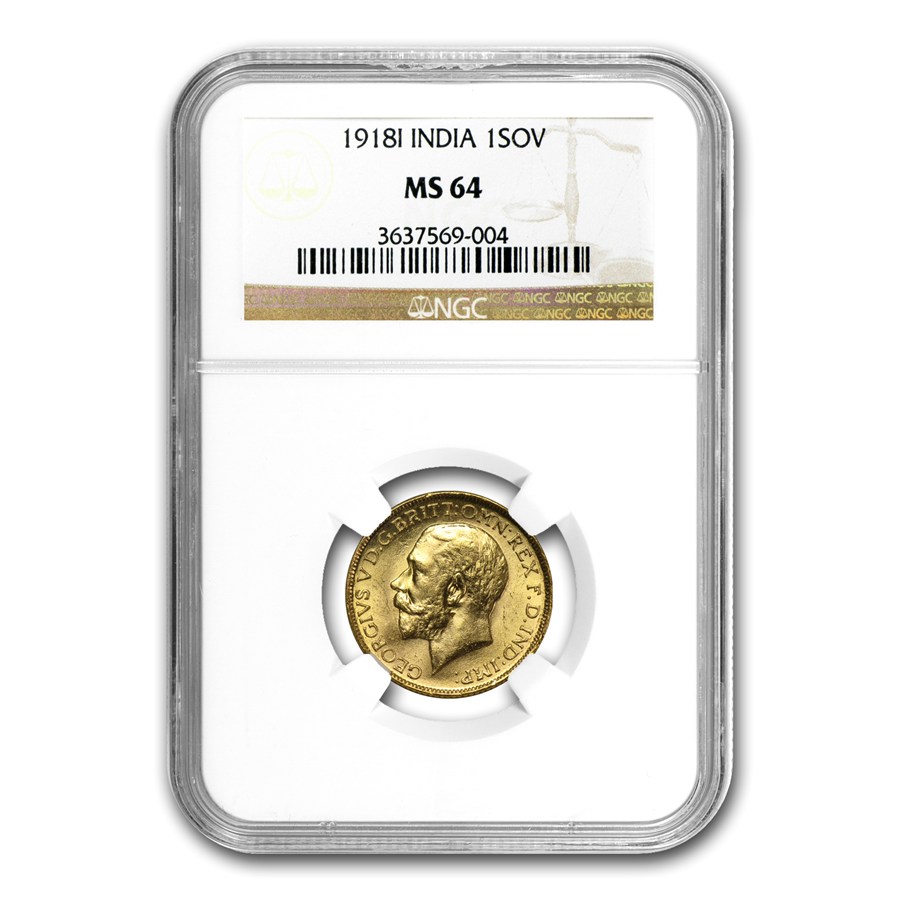 India Gold Sovereign George V Coins Background and History
The George V Gold Sovereign Coins were struck between the years 1911 and 1932. The Royal Mint produced them successfully not only in its Great Britain primary mint location, but also throughout the Commonwealth and imperial territories of Canada, Australia, South Africa, and India. These pieces feature a portrait of King George V, King of Great Britain and Emperor of India, designed by Benedetto Pistrucci. India Gold Sovereign George V Coins are set apart from the others in the mintage by the mint mark of "I," which is located over the date of the coin and stamped into the ground of the design. The mint mark is so tiny that you will likely need an eyeglass or low powered microscope to see it.
Such British Sovereign Gold Coins were struck throughout the various branches of the Royal Mint beginning in 1871. Outside of the territory of the United Kingdom, Sydney in Australia's mint was the very first to produce these British Sovereign Gold issues. Shortly after in 1872 the Melbourne Mint branch followed suit. By 1899, the Perth Mint branch started striking the coins, with the Canadian Mint branch beginning production in 1908. Bombay Mint struck the coins for only a single year in 1918 before the Royal Mint abandoned the idea of a branch mint in India. Their final successful site outside of the U.K. proper was in the South African Mint branch where they began striking the Sovereigns in 1923.
For reasons unexplained, the British Royal Mint only maintained its new Bombay, India Mint branch for the single year of 1918, final year of the destructive First World War. With their distinctive "I" mintmark found immediately below St. George on the coin reverse, these coins are the most unique of the British George V Gold Sovereign series. All such British George V Gold Sovereigns contain a full .2354 ounces of actual gold, giving them a higher gold content than any of the Swiss, French, or Belgian 20 Francs coins.
India Gold Sovereign George V Coins Physical Characteristics
Coin Design
The obverse is the official name utilized to describe the front side of coins. India Gold Sovereign George V Coins have an obverse which depicts the portrait of King George V, Emperor of India, facing to the left. His visage is encircled by the latin phrase, George V King of Great Britain and Emperor of India. The design of the coins was created and engraved by Benedetto Pistrucci.
The back of coins is known by coin enthusiasts as the reverse. India Gold Sovereign George V Coins' reverses sport a variation of the famed St. George the Dragonslayer. Here he is astride his horse and slaying the dreaded monster dragon. The date of mintage is inscribed at the bottom of the reverse.
Specifications
India Gold Sovereign George V Coins came only in the single size of nearly a quarter ounce of gold weight and content, as with all British Gold Sovereign pieces. Their exact specifications are as follows:
Mass: 0.2354 troy oz
Diameter: 22 mm
Thickness: 1.50 mm
Purity: 91.67% gold fineness
India Gold Sovereign George V Coins Pricing
India Gold Sovereign George V Coins come with one British pound sterling face values. Even today nearly a hundred years later, they are still fully legal tender within all of the boundaries and domains of the United Kingdom of Great Britain and Northern Ireland. This is a paltry face value though compared to their around $250 of intrinsic gold value. It is the world spot prices of gold that determine the vast majority of the value in these coins. They do carry some small premium for historical and collectible value, but it is not significant.
These pieces of British Empire obtain their true market value from the intrinsic gold content they contain. The only value which matters to a portfolio holding such coins is this market value. Market values from these pieces comes almost entirely from the rising and falling world gold prices as traded especially in London, Hong Kong, New York, and Chicago. These prices fluctuate daily for six days per week. You can simply find out the current live gold prices simply by heading over to our homepage.
Can IRA Accounts Contain India Gold Sovereign George V Coins?
India Gold Sovereign George V Coins are historical and proven examples of the glorious age of gold coinage. You would think that this would guarantee the Internal Revenue Service accepting them within the precious metals IRA accounts. The decision is actually up to the IRS, and no one else has a say in the matter. They employ a two-tier system of maximum gold purity and minimum collectibility premiums to decide this.
For you to establish this kind of account, the IRS insists that you start out by buying minimally $5,000 in approved bullion coins from the precious metals complex. Later purchases you can add for only $1,000 minimum in subsequent bullion. You will have to engage an IRA account administrator firm to transact your bullion purchases. You will also select a third party depository to vault your precious metals hoard. Should you already own a traditional IRA vehicle, it is easy to roll it over into a self directed IRA account that is allowed to hold physical bullion coins and bars among other alternative investments.
As far as the eligibility of these coins for precious metals IRAs, they only contain .9167 gold fineness. This is lower than the IRS' minimum standard of at least .995 fineness. The coin is not too collectible to be approved, but it does not matter, since the IRS requires coins to pass  both standards, not either one of them. You may not be allowed to inventory these historical gems in your IRA accounts, but they are excellent choices for other types of investment and retirement portfolios and accounts. You can purchase them relatively easily from any world gold coin or bullion dealer.
Sign up to learn more. It's free!
If you're worried about the economy and want to learn tips on how to protect your retirement savings in case of another systemic collapse, sign up to our monthly newsletter now for free! We cover topics such as: precious metals investing, inflation, currency devaluation, national debt, the Fed's financial policies, world politics, and much more. Join now and we'll send you a free PDF report entitled "5 scams to avoid when investing in bullion gold & silver"